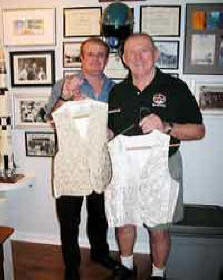 Farthest Reaches is thrilled to be handling dozens of exciting artifacts from the personal collection of Flight Controller and Flight Director, Eugene F. Kranz. Gene is also the author of the best selling autobiography "Failure is Not An Option"
As a NASA Flight Director Gene served as successor to NASA founding Flight Director Chris Kraft, during the Gemini and Apollo programs, and is best known for his role in directing the successful Mission Control team efforts to save the crew of Apollo 13, which later became the subject story of a major motion picture of the same name. Gene was played by actor Ed Harris. He is also noted for his trademark close-cut flattop hairstyle, and the wearing of dapper white "mission" vests (waistcoats), of different styles and materials made by his wife, Marta Kranz, during missions for which he acted as Flight Director. Eugene Kranz is a prominent and colorful figure in the history of U.S. manned space exploration, the embodiment of "NASA tough-and-competent" of the Kranz Dictum. Kranz has been the subject of movies, documentary films, and books and periodical articles. Kranz is a recipient of a Presidential Medal of Freedom. In a 2010 Space Foundation survey, Kranz was ranked as the #2 most popular space hero.
Please note that Eugene Kranz's proceeds from the sale of his personal artifacts and memoribilia are donated to the Shrine of the True Cross, Dickinson, Texas.

Various items from the personal
archives of Eugene F. Kranz
Please look under specific missions for for other items from Gene Kranz's personal collection
"NASA Pocket Statistics: January 1990
from the personal collection of Eugene F. Kranz

As a Flight Director Gene was required to have information at his fingertips at all times, one of his primary tools was this very NASA booklet. Gene notes on the cover in his hand that this was kept on his desk inscribes on it's cover, "My handy dandy space encylopedia.....Eugene F. Kranz".

This one was personally used by White Flight himself making all the more desirable. These sorts of personal items from Gene are quite rare and only available thru Farthest Reaches LLC.

#EK-Pocket Stats 1990
$175


NASA Pocket Statistics, January 1991
maintained at the desk of Flight Director Eugene F. Kranz

This quick reference NASA Pocket Stats booklet is best described in Gene's own words hand inscribed on it's cover, " I've always had this handy in my desk, Eugene F. Kranz" He also notes, "Good stuff" and notes "Desk" on the cover. This booklet contains a large volume of stats and facts that cover years of NASA activity. Gene would frequently refer to for reference purposes and if wasn't in his desk would be kept in his briefcase while traveling.

#EK-Pocket Stats 1991
$175











"Space Data"
TRW Systems, 1965, 128 pages
from the personal collection of Eugene F. Kranz

This pocket guide was Gene's personal copy in 1965. As you can see he's written his name in green ink with Flight Control Division. The second signature with "Flight" and "High tech data 1965" were added recently for the potential buyer of this item. Very nice and quite vintage from the Flight Director's own reference materials.at that time.

#EK-Space Data - 1965
$150


A VERY Special Owner's Manual
1968 Mercury Cougar - "Stars and Stripes"
from the personal archives of Eugene F. Kranz


This is the actual owner's manual from Gene's 1968 Mercury Cougar. Gene called this his "Apollo" car. His own words which are hand inscribed on the cover will give you a sense of how this car is best remembered by Gene.

He writes in black sharpie, "This was my "Apollo" car. Fitted with an 8 track. Remember the "Stars and Stripes" got me ready for work....Eugene F. Kranz". Heck, this one is worth the price of admission for the inscripjtion alone and if it doesn't sell quickly I'm buying it for myself!

The manual itself is complete but somewhat worn though that's not the value here. Although not directly related to space, for you follks who appreciate owning personal items, this one is an absolute keeper.

You can almost picture Gene in your mind's eye, pulling into his NASA parking spot each morning with the "Stars and Stripes" playing to put him into his work mindset. If his "Apollo" car could only talk imagine the stories it could tell. A most unique associational item.

#EK- Mercury Cougar
$350
Offered here is Gene Kranz's copy of a "Going Out in Style" program from the event held on January 11, 1985.

It's purpose was to celebrate the achievments of NASA Flight Directors by retiring their colors forever. On this occasion the colors of six Flight Directors were retired with Gene Kranz being a part of the proceedings themselves.

Gene has hand signed this program just under his name as you can see in the scan. Given this was his own program it does show some wear from being carried around that evening but by my take this only adds to the appeal. It's showing unfolded but in fact, is a two fold page with printing on all sides.

#EK: Style

$75
This elegant bookmark was presented to Gene Kranz during his "Failure Is Not An Option" book signing tour. As you can see in the scan it's engraved with Gene's name and April 18th, 2000. The book store, Tattered Cover (Denver, Co) is also engraved at the bottom.

The actual color of the ribbon is green though for some reason it doesn't show as such in the scan. Comes with a COA from Farthest Reaches LLC. A personal item associated with one of the most read books written by a mission control personality.

#EK: Bookmark

$45
This elegant bookmark was presented to Gene Kranz during his "Failure Is Not An Option" book signing tour. As you can see in the scan it's engraved with Gene's name and April 18th, 2000. The book store, Tattered Cover (Denver, Co) is also engraved at the bottom.

The actual color of the ribbon is green though for some reason it doesn't show as such in the scan. Comes with a COA from Farthest Reaches LLC. A personal item associated with one of the most read books written by a mission control personality.

#EK: Bookmark

$45
Gene was awarded the Rotary National Award for Space Acheivement in 2007 and this program was his award ceremony has been hand signed in blue sharpie as you can see in the image provided. Fine condition. Program is 35 pages with photos, articles and sponsors of this event congratulatiing Gene for this acheivement.

#EK - Rotary

$75
Gene Kranz was a graduate of Central Catholic High School in 1951 and is featured in this issue of Scarlet & Gray (Winter 2013) that institution's official publication. Gene has hand signed on the cover in blue sharpie. This magazine is 23 pages and in fine condition.

#EK - Scarlet

`$65
Gene was a graduate of Parks College of Engineering, Aviation and Technology in 1954 and addressed the class of 2014 at their precommencement ceremony. This issue of their official publication (Fall 2014) highlights Gene Kranz who has hand signed it's cover as seen in the image provided. In fine condition. 21 pages.

#EK -Parks

$65
In 2015 Gene Kranz was enshrined into the National Aviation Hall of Fame. This 28 page program was Gene's and is hand signed on it's cover in blue sharpie. Fine condition.

#EK-National Aviation Hall of Fame Program
$95
Offered here is Gene Kranz's copy of "Voices from the Moon". Produced by Philco, this is a "flexible" record invitation to the Wings Over The Rockies Gala honoring the flight of Apollo XIII. This invitation has not been opened and still has it's Apollo XIII seal on the back flap. It is addressed to Gene Kranz but as you can see, I've placed a post it note over his address that can be easily removed by it's new owner.

Gene has hand signed the front of this invitation in bold black sharpie just over his printed name. Very nice associational item of Apollo XIII from the archives of the Flight Director himself.

#EK-Wings Over Rockies
$65
This offering is a retirement gift from the girls of mission control, affectionally known as the "Late Night Limo Bunch". As you can see each has signed their "so long sentiment" to Gene who has kept this in his personal collection for many years. Something quite personal from the archives of the Flight Director himself.....

#EK-Late Night Limo Bunch
$65


"Apollo 11 - 20th Anniversary JSC Homecoming Parade : July 22, 1989
from the personal collection of Gene Kranz

This badge was worn by Eugene Kranz who was present as an honored participant at this event. Gene has kept this as a personal memento since it's acquisition, until being offered for sale here. This comes with a COA from Farthest Reaches..

#EK-Homecoming Badge
$95


"The Force: Black Hole Chilli 1980" Badge
from the VERY personal collection of Eugene Kranz

This badge was worn by Eugene Kranz who was a proud member of "The Force" Chili Cook-off Team comprised of members from his Flight Operations Team. The competition was fierce and became a real tradition thus this badge has great sentimental value to Gene. It is hand drawn (though Gene's name is typed at the top) as you can see by the scan and comes with its original holder and pocket clip. This comes with a COA from Farthest Reaches..

#EK- The Force Badge
$SOLD


Texas Book Festival - Featured Author Badge
from the personal collection of Eugene Kranz

This badge which comes with it's original lanyard was worn by Gene who was promoting his book at the Texas Book Festival. Another great associational item from Gene's' personal archives. This badge comes with a COA from Farthest Reaches..

#EK-Texas Book Festival Badge
$25





This was Gene's Retirement Party announcement. It was quite an event and this one from Gene's collection of memoribilia has been hand signed in bold blue sharpie. In excellent condition.

#EK- Retirement Announcement
$85

These cowboy spurs were presented to Gene following a leadershp talk to the Universiry of Texas. The leather has been engraved with "GK". They have been in his personal collection for quite some time and Gene has hand signed them, "Aim High.... Eugene Kranz". It's a Texas thing and a very cool memento that Gene has enjoyed until turning over to Farthest Reaches for purposes of it's sale.

#EK- Spurs
$150
"Memories - Apollo Flight Systems Reunion: April 2003"
from the personal collection of Eugene F. Kranz

Offered here is Gene's program booklet for the 2002 Apollo Flight Systems Reunion held April 2003. Gene has signed a sentiment on it's cover in black sharpie. It reads,

#When we were young and bold steely eyed missile men.....Eugene F. Kranz, White Flight"

This booklet is appromately ....long and loaded with photos with captions showing those who were in attendence for that event. These are items of the most personal sort and along with others like it hold great importance for Gene. This program just loaded with photos has remained in Gene's own collection for many years before being given Farthest Reaches LLC for it's sale.


#EK- Memories 2003
$125

Eugene F. Kranz's Mission Worn
Mercury MA-4 Operations Access Badge
Offered here it the actual badge worn by (then) future Flight Director and NASA icon, Eugene F. Kranz during the unmanned first orbital flight of MA-4 on September 13th, 1961. As you can see in the scan this badge which comes to Farthest Reaches directly from Gene, has been well worn. If only it could talk, imagine the stories it would be able to share !

The Mercury Atlas-4 booster was launched from the Cape's LC-14 at 9:04 a.m. on 13 September 1961 with Mercury Spacecraft #8A as a payload. MA-4 was the first Mercury spacecraft to orbit the earth. The USS Decatur recovered the Mercury Atlas 4 spacecraft 166 miles east of Bermuda. Elapsed time from lift-off to recovery was 3 hours and 10 minutes. A simulated man (robot) aboard rode at a speed of 17,519 miles per hour at maximum altitude of 158.6 miles.

This historic badge measures 4" x 2.5"and will be accompanied by a hand signed letter from Gene on his personal stationary attesting to its use and ownership. Additionally, upon request, it could be hand signed if so desired. Farthest Reaches Inc. is VERY proud to be handling this badge for Gene Kranz as it becomes a most treasured addition to it's new owner's space memorabilia collection.

Worn by one of the most recognized and respected names in Mission Control, during what is considered by many, the most significant pioneer unmanned space flight in NASA's history, it just doesn't get any better than this!!

#EK- Kranz MA-4 Mercury Operations Badge
$850

Mercury - Scout 1 (MS1) Operations Access Badge
Tracking Network Test Flight
Issued to and worn by Eugene F. Kranz

This badge comes from the space archives of Eugene F. Kranz. It was issued to and worn by him in order to gain Operations access to the Mercury-Scout 1 flight.

This mission was designed to "provide a dynamic checkout of the Mercury tracking network" It launched on November 1, 1961 but was unsuccessful as it failed to reach orbit. At 43 seconds into flight due to it's unstable performance the Range Safety Officer initiiated the "Self Destruct" signal to destroy the craft.

This extremely rare badge comes with a COA from Farthest Reaches and may also be hand signed by Gene Kranz for a modest fee should you so desire. Pencil writting on bottom right is Gene Kranz's hand.

#EK- Mercury - Scout 1 Badge

$850


NASA - STG (Space Task Group)
Apollo Study Review
May 15, 16, 17 1961
Issued to and worn by Eugene F. Kranz

This badge is exceptionally rare and in fact, not sure another still exists or at least I've yet to see one. Let me explain:

In July/August 1960, NASA's Space Task Group (STG) hosted a series of NASA industry conferences to discuss post Project Mercury crewed spacecraft plans. Deputy Administrator Hugh Dryden announced at the conference opening that "the next spacecraft beyond Mercury will be called Apollo".

On August 30, NASA presented plans to award three feasibility study contracts for the Apollo spacecraft, conceived as a three man Earth orbital and circumlunar craft with growth potential for crewed lunar landings.

A request for proposal was issued on September 12 and fourteen bids were received by Octobert 9. On October 25, NASA awarded the $250,000, six month contracts to General Dynamics/Convair, General Electric and the Glenn L. Martin Company. Meanwhile, members of the Sapce Task Group performed their own spacecraft design studies to serve as a gauge to judge and monitor the three industry designs.

All three competitors suupplemented the $250,000 contracts with their own money. Convair spent $1 million, GE $2 million and Martin $3 million. The Manager of GE Space Vehicle Systems, George Arthur,led the GE proposal team that included Harold Bloom, Charles Bixler, Jacob Able and Arnold Cohen.

On May 15 - 17, 1961, the contractors presented their study results to NASA. All three designs employed a mission module cabin separate from the command module and a propulsion and equipment module. Martin studied three different reentry module shapes, including a conical capsule vehicle similar to the STG configuration. GE also studied several reentry module shapes. GD/Convair's proposal employed a lifting body shape.

The badge that is being offered here was issued to and worn by Eugene Kranz during the May 15, 16 and 17th event.described above as he was a member of NASA's STG. This badge represents the very beginning of what would become our Apollo Program. I

'm not sure why the badge was clipped and Gene does not remember either but it is nevertheless exceedingly rare and was used by the individual who would become the ICON of of Mission Control..

This badge comes with a COA from Gene Kranz who will also hand sign it for a modest fee should you so desire.

#EK- STG Badge
$600


MA-9 MCC Crew Rest Quarters Badge
Faith 7 - Gordon Cooper
Issued to and worn by Eugene F. Kranz

This badge (#9) comes from the space archives of Eugene F. Kranz. It was issued to and worn by him in order to gain access to the "sanctuary" otherwise known as the crew rest quarters where in this case, Cooper was housed prior to his Mercury flight. VERY RARE..

This laminated badge comes with a COA from Farthest Reaches and may also be hand signed by Gene Kranz for a modest fee should you so desire.

#EK- MA-9 Crew Quarters Badge

$395


STS-5 Flight Readiness Review Badge
October 25, 1982
Issued to and worn by Eugene F. Kranz

This badge (#39) comes from the space archives of Eugene F. Kranz. It was issued to and worn by him as he participated in the FRR process prior to the launch of STS-5.

As defined, the FRR examines tests, demonstrations, analyses and audits that determine the overall system (alll projects working together) readiness for a safe and successful flight/launch or for subsequent flight operations.

As you might imagine, this is a critical process and required prior to each flight. This badge comes with a COA from Farthest Reaches and may also be hand signed by Gene Kranz for a modest fee should you so desire. It comes with it's plastic holder and clip as issued.

#EK-STS-5 FFR Badge
$175

STS-6 Flight Readiness Review Badge
March 17, 1983
Issued to and worn by Eugene F. Kranz

This badge (#33) comes from the space archives of Eugene F. Kranz. It was issued to and worn by him as he participated in the FRR process prior to the launch of STS-6.

As defined, the FRR examines tests, demonstrations, analyses and audits that determine the overall system (alll projects working together) readiness for a safe and successful flight/launch or for subsequent flight operations.

As you might imagine, this is a critical process and required prior to each flight. This badge comes with a COA from Farthest Reaches and may also be hand signed by Gene Kranz for a modest fee should you so desire. It comes with it's plastic holder and clip as issued.

#EK-STS-6 FFR Badge
$175

STS-3 Health Stabilization Program Badge
"Primary Contact"
Issued to and worn by Eugene F. Kranz

This badge comes from the space archives of Eugene F. Kranz. It was issued to and worn by him as he participated in the HSP prior to the launch of STS-3

As defined, the HSP was designed to keep the STS astronauts healthy in the days prior to flight through quarantine.

Gene was designated "Primary Contact" for this flight. As such he was one of the few who were cleared for direct access to the astronauts durng that period.

This badge was designed to be worn directly under Gene's MCC badge so that only the "Primary Contact 3" would show.

This badge comes with a COA from Farthest Reaches and may also be hand signed by Gene Kranz for a modest fee should you so desire. It is laminated as issued.

#EK-STS-3 HSP Badge
$295

STS-5 Health Stabilization Program Badge
"Primary Contact"
Issued to and worn by Eugene F. Kranz

This badge comes from the space archives of Eugene F. Kranz. It was issued to and worn by him as he participated in the HSP prior to the launch of STS-5

As defined, the HSP was designed to keep the STS astronauts healthy in the days prior to flight through quarantine.

Gene was designated "Primary Contact" for this flight. As such he was one of the few who were cleared for direct access to the astronauts durng that period.

This badge was designed to be worn directly under Gene's MCC badge so that only the "Primary Contact 5" would show.

This badge comes with a COA from Farthest Reaches and may also be hand signed by Gene Kranz for a modest fee should you so desire. It is laminated as issued.

#EK-STS-5 HSP Badge
$295

ssion Used and Hand Annotated by Flight Director Eugene F. Kranz
Professional Engineer Achievement Award in recognition for outstanding professional and leadership services during his Aerospace career and for providing the perfect role model for a future generation of engineers

Date Issued: 1996
Issued by: Society of Hispanic Engineers


Measures 9.25" x 12.50"

#EK-547
$125


In appreciation for delivering the 45th Annual Louis H. Bauer Lecture
to the Aerospace Medical Association, Houston, Texas

Date Issued: 5/18/00
Issued by: Aerospace Medical Association


Measures 10" x 8"

#EK-548

$50


Proclamation from the Office of the Mayor

Date Issued: 12/1/95
Issued by: City of Toledo, Ohio - Mayor Carleton S. Finkbeiner


Measures 13" x 8.5"

#EK-549
$85


Commendation for sustained extraordinary

accomplishment and nomination for a Presidential Rank of
Distinguished Executive in the Senior Executive Service of the United States Government.

Date Issued: 7/16/84
Issued by: National Aeronautics and Space Administration (signed by James Beggs)


Measures 11" x 14"

#EK-550
$125




Certificate of Qualification as Gallery Rifle Marksman

Date Issued: 5/11/53
Issued by: The National Rifle Association


Measures 11" x 8"

#EK-551
$65


AFROTC: Air Force Reserve Officer's
Training Corps (Summer Camp)

Date Issued: 8/25/53
Issued by: Camp Training Officer & Camp
Commander of Scott Air Force Base, Illinois


Measures 10" x 8"

#EK-552
$125

Books fro the ersonal brary of Eugene F. Kranz
ect Mercur Star Chart
Project Mercury Star art - Hnd Sned by Eugene F. Kranz
This lucite presented to Gene by the National Freight Transportation Association in 2005. A beautifully produced lucite measures 4" x 5". Comes with a COA from, Farthest Reaches Inc.

#EK-563
$25

This Spacelab medallion comes from Eugene Kranz's personal collection of coins and medallions and comes in it's own plastic case as noted. This medallion DOES NOT contain flown medal. Comes with a COA from Farthest Reaches.

#EK96
$SOLD


(All posters and prints include a COA from Farthest Reaches)
"Visions Of The Future" by Robert McCall

Celebrating the art of space artist Robert McCall and presented to Gene by Robert McCall who has hand signed in gold, "To Gene Kranz, with admiration...Robert McCall". Poster measures 22" x 34" and is in very good though not perfect condition.


#EK235
$150


"Capturing The Vision"

A Manned Flight Awareness Poster measuring 22" x 34" and signed, "From my personal collection...Eugene Kranz. Very colorful and beautifully signed.

#EK236
$SOLD


NASA Apollo 11, 20th Anniversary Poster is on heavy paper stock. It measures 20" x 30" and is hand signed by Gene Kranz who adds "Flight" in blue sharpie. Beautiful as you can see.

#EK238
$175


"Pioneering Space" by Dan Collins.

On heavy paper stock this print measures 29" x 21". Hand signed by Eugene Kranz who adds, "From my personal collection".

#EK239
$95


Poster promoting Cleveland, Ohio National Air Show celebrating 100 years of powered flight. A very retro looking poster and hand signed by Eugene Kranz who adds, "Flight". Measures 22" x 28". Very colorful!.

#EK241
$75


Poster produced in conjunction with the 67th General Meeting of the National Board of Boiler and Pressure Vessel Inspectors. This is a beautiful production as you can see. The main image is a reproduction of an Alan Bean print with photographs below of the Apollo 12 Moonwalkers Alan Bean and Pete Conrad with Flight Director, Eugene Kranz in between. Gene has hand signed below his image. As you can see, the words, "Failure Is Not An Option are emblazoned into the lower portion of this poster. Measures 24" x 18".

#EK242
$SOLD


"Developing the Space Frontier", by Linda Boyer (#227 of 500).

This print which was presented Gene (who has also signed), is hand signed and numbered by the artist. It
was produced for the American Astronautical Society and measures 20" x 14".

#EK244
$75


"Developing the Space Frontier",

by Linda Boyer (#227 of 500).

This print which is the mate to the one above, was presented Gene (who has also signed) and is also hand signed and numbered by the artist. It was produced for the American Astronautical Society and measures 20" x 14".

#EK245
$75


"Grumman's First Men In Space"

This print was produced in part from a negative flown LM-3/Apollo 9 (3/3/69). It comes from Gene's personal collection and he has signed in blue sharpie with "Flight" added. It measures 20" x 14".

#EK246
$SOLD


The following items are hand signed
via special arrangement between
Eugene F. Kranz & Farthest Reaches LLC
"Failure Is Not An Option" by Eugene Kranz
(Simon & Shuster, NY - 2000 - 1st edition - fifteenth printing, HC, 415pgs)

This highly acclaimed book that details the career of Mission Control icon, Eugene Kranz has been hand signed by Kranz with "Flight" added. This book is an "As New" unread copy and some hace small remainder mark to bottom page edge.

This now classic has gotten difficult and rather expensive to locate in as new condition. I expect this trend will contniue over time. Only a small quantity are in stock at any one time so don't delay.

#GK-11
$165

Eugene Kranz, Flight Director hand signs this Apollo XI Art Craft cover honoring man's first landing on the moon. It is double cancelled on both the date of issue for the stamp affixed as well as the date of moon landing on July 20, 1969. Very cool and a beautiful cachet.

#GK-Support-210
$65


Beautiful Sarzin cover with metallic cachet which is mirror like despite the problem of getting it to scan correctly. Eugene Kranz, Flight Director hand signs this Apollo XIII cover with Cape Canaveral, FL cancel on April 16, 1970 as they were struggling to make it home, just one day before what would become splashdown. Gene hand signs and adds, "Our finest hour !". A magnificent cover.

GK-Support-Finest Hour Sarzin Cover
$85


Sarzin cover with metallic cachet which is mirror like despite the problem of getting it to scan correctly. Eugene Kranz, Flight Director hand signs this Apollo XIII cover with Cape Canaveral, Fl cancel on April 14, 1970, the day of the explosion. Kranz hand signs and adds his now famous quote in part, "Lets solve the problem...." as the ground crew were struggling to find a way to get their crew home safely. A magnificent cover. .

#GK-Support-Solve the problem Sarzin
$85


Gene Kranz hand signs white 3x5 index card in black sharpie.

#GK- Support: Index Card
$40

Eugene Kranz hand signs this very vintage Man On The Moon Card #SpaceShot card (#0169) showing the Apollo 13 launch.

#GK Support - 110
$50
Gene Kranz at his console for Gemini 6 (Schirra/Stafford) simulation. A beautifully detailed image giving us a great look at the MCC technology. Boldly hand signed and inscribed in blue sharpie and dated 10/24/65.

#GK19
$69


"Aim high - never surrender!" This is Gene's creedo. Never were truer more inspirational words spoken. Hand signed in black sharpie but also available in blue upon request.


#GK10
$69


"Tough and Competent" This well known quote attributed to Gene is inscribed in blue sharpie with "Flight" added. The look of determination on Gene's face speaks a thousand words !


#GK9
$69


Hand signed MCC emblem (designed by Artist Robert McCall). Black sharpie with "White Flight" added.

#GK1
$65





"The Vest" This quintisential image of Gene Kranz speaks for itself. The signature is in bold black sharpie and Gene adds, "White Flight". Simply awesome!

#GK2
$65


This is a seldom if ever seen image that comes directly from Gene's personal files. He is shown here performing a 1G Suit Evaluation in 1980 and inscribes accordingly in bold blue sharpie while also adding, "Flight". An incrediby rare image hand signed by the Flight Director himself exclusively for Farthest Reaches.

#GK-1G
$65




Mission Control - Houston, July, 1969 (Apollo 11). Beuatifully hand signed in blue sharpie. Gene Cernan who is also shown could be added.

#GK3
$69






Failure is not an option: the most recognizable words associated with Apollo 13 and also the title of Gene's book.

#GK11
$69





"This crew is coming home!" are the actual words spoken as the Apollo 13 Flight Director, Gene Kranz hand signes this MCC image showing Fred Haise on the big screen. Awesome image and inscription.

#GK8
$69



"Live from Apollo XIII, 4/13/70" You're looking at a scene in the MCC near the time of the explosion. Fred Haise can be seen on the big screen. Gene Kranz hand signs in bold gold paint pen. Measures 8x10 and is pristine.



#GK62
$69






Gene signs and inscribes, "Our finest hour" and adds splashdown date. Photo was taken just post Apollo 13 splashdown and recovery. Note James Lovell on big screen.

#GK5
$69





Gene Kranz at the console on Apollo 16 launch day. Hand signed and inscribed accordingly in blue sharpie with launch day added.

#GK6
$69

Apollo 13 Service Module explosion pushes Mission Control into hight gear! Hand signed by Gene Kranz who includes this often quoted passage, as he leads the charge to bring the crew back alive. He writes, " Solve the problem. Let's not make it any worse by guessing" ...4/13/70.

This striking image is boldly signed in black sharpie. It captures the focus brought to bear on the situation that might have been our greatest disaster in space but became instead, what Gene refered to as, "Our finest hour"

Please Note: Scanning this image was very difficult. The dust marks/streaking ARE NOT on the photo itself. The colors are rich and pristine. It is a perfect image.


#Solve the problem (A)
$165


Special: Signed by Jim Lovell, Apollo 13 CDR AND
Eugene Kranz, Flight Director

Gene signs and inscribes, "Our finest hour" and adds splashdown date. Lovell signs as well. Photo was taken just post Apollo 13 splashdown and recovery. Note James Lovell on big screen.

#GK5 (B)
$SOLD




Special: Signed by Eugene Kranz &
Sy Liebergot, Apollo EECOM !

Apollo 13 - Aquarius becomes a lifeboat !

Hand signed by Gene Kranz & Sy Liebergot with Sy's actual words to "Flight". Note: Dust marks/streaking are scanner artifacts. Actual images are perfect.


#Lifeboat - (A)
$165


Special: Signed by Eugene Kranz AND
Sy Liebergot, Apollo EECOM !

Hand signed by Gene Kranz & Sy Liebergot with Sy's
actual words to "Flight" (words which by the way, Sy points out, he will never live down :). Note: Dust marks/streaking are scanner artifacts. Actual image is perfect.


#Damaged Service Module - (A)
$165


Special: Signed by Jim Lovell, Apollo 13 CDR and
Eugene Kranz, Flight Director

Apollo 13 Service Module explosion pushes Mission Control into hight gear! Hand signed by Gene Kranz who includes this often quoted passage, as he leads the charge to bring the crew back alive. He writes, " Solve the problem. Let's not make it any worse by guessing" ...4/13/70. Lovell signs and adds mission information.

This striking image is boldly signed in gold paint pen. It captures the focus brought to bear on the situation that might have been our greatest disaster in space but became instead, what Gene refered to as, "Our finest hour". Note: Dust marks/streaking are scanner artifacts. Actual image is perfect.

#Solve The Problem - (B)
$SOLD