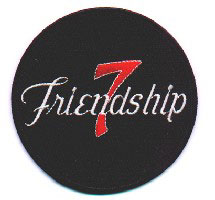 Project Mercury
Initiated in 1958, completed in 1963, Project Mercury was the United States' first man-in-space program. The objectives of the program, which made six manned flights from 1961 to 1963, were specific:
To orbit a manned spacecraft around Earth;
To investigate man's ability to function in space;
To Recover both man and spacecraft safely.

John Glenn - Friendship 7
(see also, "Space Shuttle Astros A - M"
all photographs measure 8x10 unless otherwise specified
John Glenn hand signs this 8x10 satin finish photo in space suit with bold black sharpie. Very nice!!

#Mercury Glenn #67
$210


John Glenn in spacesuit in this classic portrait. Boldly hand signed. Pristine.

#Mercury Glenn-983
$210

John Glenn in spacesuit in another one of his classic portraits. Boldly hand signed in black sharpie. Measures 8x10 and in pristine condition.

#Mercury Glenn-1056
$210

Candid space suit portrait of John Glenn hand signe d by Glenn in black sharpie. Measures 8" x 10.75". Boldly hand signed. Outstanding condition.

#Mercury Glenn-625
$SOLD

John Glenn hand signs this 8"x10" loading photo in bold black sharpie. Highly sought after image. Very nice!!

#Mercury Glenn #977
$SOLD

Friendship 7 (bw) launch photo. Measures 8" x 10.5". Boldly hand signed. Pristine condition.

#Mercury Glenn-437
$SOLD

John Glenn helmet portrait beautifully hand signed in black sharpie on Kodak Picture Maker paper. Measures 8" x 10".

#Mercury Glenn-300
$165




John Glenn in-flight image taken by the Friendship 7 onboard camera. Signed in black sharpie. This is a latter day official NASA Press Release photo. Measures 8" x 10".

#Mercury Glenn-301
$SOLD


John Glenn launch day "walkout" hand signed in black sharpie. This is a latter day official NASA Press Release photo. Measures 10" x 8".

#Mercury Glenn-302
$250


This very vintage USAF press release photo of his rocket on pad. Light 2" scotch tape remainder mark on back that does not effect front OR USAF purple information stamp on reverse. Is signed in bold black sharpie and measures 8"x10". .

#Mercury Glenn-304
$SOLD


Image of John Glenn donning his Mercury Space Suit hand signed by Glenn in bold black sharpie. Measures 8" x 10".

#Mercury Glenn-305
$SOLD

John Glenn stands in front of capsule on launch day. Signed in black sharpie. Measures 10" x 8".

#Mercury Glenn-206B
$215

Tough to find great color shot of John Glenn during flight of Friendship 7. He hand signs, "Best Wishes and adds the date. Is outstanding condition and measures 10" x 8".

#Mercury Glenn-1209
$SOLD


Less often seenl 8"x10" image of the future astronaut John Glenn in military uniform. Authentically hand signed in bold black sharpie.


#Mercury Glenn-621
$175

Vintage official NASA business suit litho beautifully hand signed in black by John Glenn using his early signature style. Pristine condition.

#Mercury Glenn-Business
$245

Later day official NASA business suit glossy. Hand signed by John Glenn in bold black sharpie. Measures 8" x 10.5". Pristine condition.

#Mercury Glenn-Business (c)
$SOLD

John Glenn during MA-6 training. Boldly hand signed in black sharpie.

#Mercury Glenn - 127
$210


Inscribed on a limited edition (1/1000) art print of U.S.S. New Mexico (8x10) Beautiful bold signature.


#Mercury Glenn-9
$65


Post Friendship 7 splashdown hand signed by John Glenn and personalized

#Mercury Glenn-3
$SOLD

This Project Mercury 4 cent plate block with serial number 27065 has been authentically hand signed by John Glenn. It can be easily removed from it's mount. The mounting page tells the story behind the issuance of the stamp. Pristine condition.

#Mercury Glenn-91
$165


Highly desirable period Topps Space Trading Card #32 showng Glenn's portrait. This card is hand signed in bold black sharpie by John Glenn and SGC slabbed. These vintage cards are an outstanding format for signatures given they were produced just after his actual Mercury flight.

#Mercury Glenn-Topps #32
$200

Highly desirable period Topps Space Trading Card #39 showing John Glenn in spacesuit. This one is hand signed in bold black sharpie by John Glenn. PSA/DNA slabbed and in awesome condition.

#Mercury Glenn-Topps #39
$200

Exceptionally cool vintage Topps Space Trading Card #38 showing John Glenn suiting up. This one is hand signed in bold black sharpie by John Glenn. Quite worn but seldom seen and brings back some real fond memories for us baby boomers!!

#Mercury Glenn- Topps #38
$125

John Glenn hand signs this SpaceShots card #0001 of the Astronauts Memorial. In pristine condition. The perfect card for one of America's pioneer Mercury Astronauts to sign. Measures 2.5" x 3.5".

#Mercury Glenn SpaceShots #0001

$95

John Glenn hand signs this Desert Strom Pro Set high quality trading card #104 in bold black sharpie. Measures 2.5" x 3.5".

#Mercury Glenn Desert Storm #104

$SOLD

John Glenn hand signs this Desert Storm Pro Set high quality trading card #103 in bold black sharpie. Measures 2.5" x 3.5".

#Mercury Glenn Desert Storm #103

$75


3" x 5" card hand signed by John Glenn in blue sharpie.

#Mercury Glenn-Index
$95


3" x 5" index card hand signed by John Glenn in blue sharpie. Card includes the NASA Meatball logo as you can see in the scan. Is PSA/DNA slabbed.

#Mercury Glenn-Index (b)
$95

SIGNED 5.5" X 3.5" white card stock. Note: Carla, Cindy, Amanda, Patricia, Tracy, Rhonda and Kim are also available.

#Mercury Glenn-4

$50




Cover issued on 2nd anniversary of first lunar landing, cancelled on July 20, 1971 at Cape Canaveral. Note this being an airmail cover with 10 cent First Man On The Moon stamp. Beautifully hand signed by John Glenn using blue sharpie. Very nice!!

#Mercury Glenn -207
$SOLD


Presented here is a first day cover for the Project Mercury stamp. It was produced by Art Craft to commemorate John Glenn's successful flight and cancelled at Cape Canaveral on 2/20/62 (Mercury launch day). This cover has been boldly signed by John Glenn in blue sharpie. Beautiful condition.

#Mercury Glenn-200
$155


Offered here is a first day cover for the Project Mercury stamp. The four stamps affixed have been cancelled at Cape Canaveral on 2/20/62 (Mercury launch day). This cover has been boldly signed by John Glenn in blue sharpie. Beautiful condition.

#Mercury Glenn-2600
$155


Honoring Project Mercury - John Glenn's Orbital Flight and a first day cover for the Project Mercury stamp. It was beautifully produced and is hand signed in black by Glenn. It is cancelled at Cape Canaveral on 2/20/62 (Mercury launch day). Beautiful condition.

#Mercury Glenn-320
$165


This cover was produced by Space Craft Covers. It was part of their Project Mercury Man -In- Space series and honors - John Glenn's Orbital Flight and a first day cover for the Project Mercury stamp. It was beautifully produced and is hand signed in black by Glenn. It is cancelled at Cape Canaveral on 2/20/62 (Mercury launch day). Beautiful condition.

#Mercury Glenn-620
$185


This cover honors the U.S. - Russian joint MIR docking mission (STS-74). The beautiful Colorano Silk Cachet production is exceptionally desirable. It has been neatly hand signed in black by John Glenn. It is cancelled at Houston, Texas on 11/12/95 and is in beautiful condition.

#Mercury Glenn-1066
$165