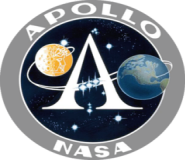 The Apollo program was designed to land humans on the Moon and bring them safely back to Earth. Six of the missions (Apollos 11, 12, 14, 15, 16, and 17) achieved this goal. Apollos 7 and 9 were Earth orbiting missions to test the Command and Lunar Modules, and did not return lunar data. Apollos 8 and 10 tested various components while orbiting the Moon, and returned photography of the lunar surface. Apollo 13 did not land on the Moon due to a malfunction, but also returned photographs. The six missions that landed on the Moon returned a wealth of scientific data and almost 400 kilograms of lunar samples. Experiments included soil mechanics, meteoroids, seismic, heat flow, lunar ranging, magnetic fields, and solar wind experiments.
Go To Apollo 13 -17 Memorabilia

Apollo Non Mission Specific : Memorabilia
NASA - Group Achievement Award

To Neil Hutchinson

Lunar Landing Team

Issued at Washington, DC - April 2, 1973

Issued by James Fletcher, Administrator, NASA

Presented to Neil Hutchinson for outstanding contributions to the Apollo Program and his resourcefulness as a part of the Lunar Landing Team. Neil had become a Flight Director by the time he had received this award. Measaures 11" x 14".

#Apollo Mem/NS- Hutchinson Landing Team Award
$250

Apollo Misc Item
Apollo 7: Memorabilia
This pristine, unused match book was produced for the Apollo 7 crew by the North American Rockwell Corporation. Being offered here and making this so desirable is that this match book has been authentically hand signed by Wally Schirra, Apollo 7, CDR from whose collection it came. A wonderful item for the person who enjoys adding the more unique and offbeat items to their collection. A COA will be included.

#Apollo 7 - Schirra Matchbook
$135
This high quality vintage Apollo 7 bar glass honoring the flight of Apollo 7 has been hand signed by Wally Schirra who adds Apollo 7, CDR. A most unusual hand signed associational item for collectors who like things that are a bit off the breaten track. . Very nice!

#Apollo Mem - Apollo 7 Hand Signed Bar Glass
$175

Saturn 1 Block 2 "Traveling" Contractors Model

This very vintage Saturn 1 Block 2 contractors model is absolutely pristine. It comes with it's traveling case as you can see in the image shown. The plaque on it's base reads George C. Marshall Space Flight Center. This model measures 25.25" from base to top of excape tower as shown. There are speakers notes used back in the day, still included in the wooden traveling case. This model will never need to be upgraded. In face, it's doubtful that you'll even find one in such pristion condition. Rare in this state and simply magnificent.

#Apollo Mem - Saturn 1 Block 2 Contractors Model

$SOLD
An MCC memento from the personal collection of Neil Hutchinson, "Silver Flight"
This cigar tube held a celebration cigar opened in Mission Control for the occasion of the successful splashdown of Apollo 7. It was opened and smoked by Neil Hutchinson with the tube being saved in his personal collection as a memento of that historic day. Neil is now offering this slice of space/ MCC history for sale through Farthest Reaches LLC. A most unusual MCC item tied very closely to a major event that paved way to the Moon and beyond.

#Apollo Mem: Hutchinson Apollo 7 MCC Cigar Tube

$125
Apollo 8: Memorabilia
Apollo 8 Mission Control Flag
from the personal collection of Neil Hutchinson

Offered here is an American Flag used to celebrate the successful completion of historic flight of Apollo 8. This come from the personal collection of GNC Flight Controler Neil Hutchinson. It was waived on it's origional stick which is not included. MCC items from the Apollo missions seldom become available and this oversized flag (11x17) is something you might not see for years if seeking one or perhaps not at all.

Hutchinson has written "MCC-Apollo 8" on the flag as you can see in the scan and will also provide a hand signed COA to it's new owner.

#Apollo Mem - 8: Hutchinson MCC Flag

$SOLD
This Apollo 8 Certificate of Participation was issued to aerospace pioneer William Todd by Launch Operations and Kurt Debus of KSC for his role in the success of that first historic flight to the moon. It measures 8"x10.5" and is in great shape considering it's age.

#Apollo Mem: Apollo 8 Certificate of Participation

$65
This Apollo 8 MFA Medallion with flown metal from that mission comes from the personal collection of Neil Hutchinson who worked as a GNC in the MOCR at Houston MCC at that time but would later become a Flight Director beginning with Apollo 17.

I'm not sure why this image has a shadow on the lower third of the scan but it doesn't exist on the actual item which is in ourstanding condition.

#Apollo Mem: Apollo 8 Hutchinson MFA

$SOLD
Apollo 10: Memorabilia
MSC Internal Note No. 69 - FM - 125, May 13, 1969
Apollo 10 Spacecraft Dispersion Analysis, Volume III
LOI, TEI and APS Burn to Depletion Maneuvers

This 17 page Internal Note comes from Astronaut Gordon Coopers own Apollo X notebook and is indicated accordingly in Coopers own hand as you can see on the cover. Gordo was the Back-Up CDR for this mission. This document is also hand signed by Tom Stafford, Apollo 10 CDR. Beautiful condition!!

Stafford - Apollo 10/3

$295

Apollo 11: Memorabilia
"Official NASA" Apollo 11 45th anniversary medallion containing FLOWN medal

This official NASA medallion contains metal from the Command Module that flew the first men who walked on the moon 1969-2014. It is an immpressive 1.75" in diameter. Both sides are shown in the accompanying image.

Please note that this is only the 2nd time EVER that NASA has issued an "Official" Apollo 11 Medallion with flown metal. The first time of course was the MFA Medallion (also available here) which was in fact was produced in much higher numbers making this version even more desirable.

Dimension-ally rendered in Antique Bronze Includes a Circular Presentation Case. This medallion is beautifully produced in antique bronze with a sandblasted finish.

Produced by premiere medallion maker Winco International (Winco) who certify that the metal included in the Apollo 45th Anniversary Medallions is taken from Apollo Command Modules that flew to the Moon. Various undefined flown metal types and percentages have been used in the production of these medallions. The edition is limited to 1000 medallions and long sold out by the publisher. Packaged on a beautiful display card and with unquestionable provenance.

#Apollo Mem - 11 - 45th Anniversary Medallion
$29.95
"Thumbs Up, Neil" by Paul Calle

This cover has been hand drawn by well known artist Paul Calle. This is #1/ 11 making it exceptionally desirable. It measures 9.5"" x 6.25" is numbered, hand signed by Paul Calle and in "as new" condition.

#Apollo Mem - 11 Calle "Thumbs Up"
$695
Spectacular limited edition original signed pencil and felt tip sketch of Neil Armstrong stepping on to the lunar surface, #2/11, on an off-white 9.5 x 4 First Day Cover, signed in pencil, "Paul Calle, First Man on the Moon," and also signed on the reverse in black ink, "From the collection of Paul Calle." In very fine condition. This is an exceptional example of Calle's first man on the moon postage stamp.

As you can see this is beautifully and professionally framed with an Apollo 11 - 4" mission patch affixed.

#Apollo Mem - Calle #2/11
$1250
Apollo 11 Certificate of Recognition to Floyd L. Henry

This oversized yet beautifully produced full color certificate of recognition is as impressive as they come. It honors a Floyd L. Henry for his contributions toward the succcess of the first manned lunar landing. It measures an impressive 16" x 20" but is mounted on a presentation board and matted to a size of 19.5" x 24".

One can onlly imagine how proud the recepient must have been to have contributed to the success of this most historical acomplishment. The beauty of the certificate speaks for itself. It is bright, clean and in overall excellent condition.

#Apollo Mem - 11 F.L Henry Certificate
$195
"The First Lunar Landing - As Told by The Astronauts" - 20th Anniversary
NASA, 1970, 25 pgs

This 9" x 12" vintage NASA booklet is loaded with text and photos. In excellent condition.

#Apollo Mem - 11 First Lunar Landing Book
$40
Apollo 12: Memorabilia
Apollo 12 Mission Reports - Priced below Amazon!!
Only a limited number at this price are available.
Apollo 12: The NASA Mission Reports
(Apogee Books, 1999, 248 pgs., PB)

First Edition w/CD ROM and priced to sell. This is a new, unread copy.

#Apollo Mem - 12 Mission Reports
$12

Saban's Power Rangers - Heros of Space includes Red Ranger and an Astronaut Charles Conrad action figure. The package has never been opened and is hand signed by Charles Conrad in blue sharpie on the back of the package as shown in the scan. Tough to find autographed.

#Apollo Mem - Power Rangers Conrad

$250
This meerschaum pipe is from the personal collection of Apollo 12 CDR Pete Conrad. Pete was a pipe smoker and this one comes directly from his family where it has remained for several years. This pipe includes it's stand as shown in the photo AND Pete's leather storage fitted case. This particular pipe was never used despite being a part of Petes collection though I'm guessing would have been at some point. A photo of the black leather storage case that fits this pipe can be sent upon request. Own and better....smoke a pipe that belonged to the 3rd man to walk on the moon !! COA from Nancy Conrad will accompany this item. Please don't ask me if it's flown (says grinning) !

#Apollo Mem - Pete Conrad Pipe (a)

$225
Apolllo 12 Commemorative Mug

This seldom seen mug stands almost 5" tall and has a glass bottom. It's quite nice and would look great on a bookshelf or filled with a tasty drink !




#Apollo Mem - A12 Mug (Todd)

$40

Apollo 12 Launch Parkway Viewing Vehicle Permit #684 issued by John F. Kennedy Space Center. In great shape. Measured 4.25" x 8".

#Apollo Mem - 12 Parkway Viewing Site Permit

$40

This is the Apollo 12 MCC badge issued to and used by noted NASA Flight Controller Alan Glines. Due to their limited number and the increasing number of badge collectors, these are becoming increasingly scarce. This badge is in excellent condition despite having been used on a daily basis by Glines.

#Apollo Mem - 12 Glines MCC Badge

$250

Apollo 12 Key Ring. Medallion states it was made in Italy. Reverse has image of Yankee Clipper and mission information.

#Apollo Mem - 12 Key Ring (a)

$30

Vintage Apollo 12 launch team tie clip. These were issued to members of the launch team in various forms. This tie clip comes in it's original plastic box.

#Apollo Mem - 12 Launch Team Tie Clip

$80


Apollo 12 Key Ring

#Apollo Mem - 12 Key Ring (b)

$30




Apollo 12 launch viewing access badge. Reverse Includes
security information as well as badge number. In outstanding condition.

#Apollo Mem - 12 Launch Viewing Pass

$35





Sports Car Club of America Honors Pete Conrad

The Sports Car Club of America presented this plaque to Pete Conrad at their Area 3 Annual Cnvention in Macon, Georgia on January 10, 1970. It was presented only a few months following his return from space. The plaque was created with a great sense of humor and describes Apollo 12 by likening it to a raod race. Take a look at the attached image to appreciate the tounge and cheek spirit of this award. As you can see, the plaque has a few scratches, no doubt due to it's being moved around during it's 47 years but this should not detract. An Apollo 12 related honor presented to one of it's Astronauts makes it a highly desirable choice for anyone's space memorabilia collection. The plaque measures 12" x 15".

#Apollo Mem - 12 Conrad Sports Car Club

$350